In these sessions we will look at the important area of finances. Finance and money is something that touches all of our lives every day. It is not a subject the Bible ignores and nor should we. Abuses on both sides have led to many imbalanced teachings concerning money; from the lie that God wants everyone poor and money is inherently evil, to the equally preposterous teaching that our spirituality is gauged by our financial success. Neither of these ditches on the sides of the road of truth are accurate, the Scriptures however do teach much about a Kingdom system of finance; clear financial principles, which when lived by, produce increase in the lives of those who apply them, and subsequently blessing for all whom they are empowered to bless. We are blessed to be a blessing.
The goal of the sessions is:
To enter an honest discussion about what the Bible says about money and prosperity.
To grasp the principles of finance as taught in the Bible.
To apply these principles in life.
Our main focus in these sessions will be money, but first we need to define what we mean by prosperity. It is much more than monetary well-being. Many rich people are sick, lonely and going to hell as we speak. They could not be described as prosperous even though their bank account is bulging. Equally, there are financially poor people whom the Bible describes as 'rich in faith' (James 2:5). A proper definition of 'prosperity' is essential if we are to properly contextualise our discussion concerning money and prosperity as the Bible describes it.
Prosperity defined
I think that one of the best definitions of prosperity I have heard is from Kenneth Copeland. He defines true prosperity as "the ability to use God's power to meet the needs of mankind in every area of life."
Money is only one degree of prosperity. As Jesus said in Mark 8:36, a man can gain the whole world yet still lose his soul. The scriptural context for prosperity is the Covenant we have with God, and this comprises every realm of our lives: physical, emotional, financial, social, spiritual etc. To be truly prosperous the blessing of the Covenant must be at work in every area, not just our bank account!
Is It God's Will To Prosper Us?
John the Apostle wrote the following lines under the direct inspiration of the Holy Spirit:
"Beloved, I pray that you may prosper in all things and be in health, just as your soul prospers." (3John 1:2 NKJV)
God's will is that we thrive and flourish in every area of life, in every aspect of our being; mental, spiritual and physical. If we place a balanced emphasis on the doctrine of prosperity we discover that God's will is that our soul prospers, mentally, emotionally and spiritually; that we are in health, enjoying physical well-being; and that we prosper financially, having enough for our own needs and to meet the needs of others.
The Good Road
The word 'prosper' in this verse of 3 John is "euodoo". Euodoo comprises two Greek words, 'hodos' meaning road, and 'eu' meaning 'good'. Essentially then it means to have a 'good journey'. It does not specifically mean 'financial', yet encompasses the thought that one's journey through life would be adequately supplied in every way. The same word is used in 1Cor 16:2 referring specifically to finances.
Don't fall in the ditch
Imbalanced teachings have left many in a ditch on either side of this 'good road'. There are those in one ditch who teach that Jesus lived in poverty, that money is evil and that prosperity as the Bible teaches it has nothing to do with material well-being. There are others floundering in the opposite ditch who preach that God's main concern is for our material prosperity, and that money is a true measure of our spirituality and closeness to God.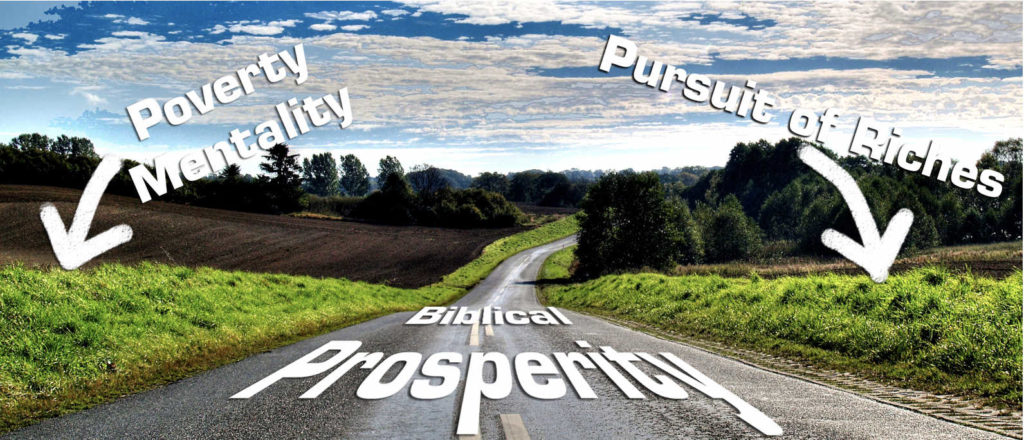 Between these two is a balanced road upon which our soul prospers in fellowship with God, who provides all of our needs according to His riches in glory, gives us all things richly to enjoy, and places within us His generous Spirit so that we become a conduit of this blessing to others. The balance is not one of a little bit of poverty and a little bit of prosperity, but rather a simple equation of simplicity + generosity = contentment. We are encouraged in Scripture to live moderate lives, not ostentatiously, yet lives of extreme generosity. As we prove our stewardship, our own prosperity will follow and increase, so that the fruits of our generous giving may increase also.
God takes pleasure in the prosperity of His servants
The Bible plainly declares that God takes pleasure in the prosperity of His servants (Psalm 35:27), and that there is a reward for living righteously and wisely in this life (Psalm 112; Prov 8:18-21). The word used for 'prosperity' in Psalm 35 is the Hebrew word 'shalom'. Shalom means peace, prosperity, well-being, wholeness, health, protection. All of these bring pleasure to our Father when we walk in them.
It is worth noting that the Bible clearly teaches God's desire to prosper His servants, yet also warns against setting our own will to be rich:
"But they that will be rich fall into temptation and a snare, and into many foolish and hurtful lusts, which drown men in destruction and perdition." (1Timothy 6:9 KJV)
As we set our will to serve God's purpose, seeking first His Kingdom and His righteousness, all these things will be added to us (Matt 6:33) – if however we divert our will to pursue riches, or indeed any earthly thing, we will derail our destiny and fall into a 'snare' or a ditch!