The disciples of Jesus clearly saw the power of their Master's prayer life. So much so that they came to Jesus to ask Him the question, "Lord, how do you pray. Can you teach us also…"
Jesus responded with the following model prayer for the disciples. We will look in this session at how this model can be utilised by students to enrich their devotional prayer times.
"In this manner, therefore, pray: Our Father in heaven, Hallowed be Your name. Your kingdom come. Your will be done on earth as it is in heaven. Give us this day our daily bread. And forgive us our debts, as we forgive our debtors. And do not lead us into temptation, but deliver us from the evil one. For Yours is the kingdom and the power and the glory forever. Amen." (Matthew 6:9-13 NKJV)
Some have described this as resembling a track around which the disciple can run in prayer, giving fresh direction to prayer and bringing the follower of Christ closer to God. It must be stressed however that the 'track' should never become a form without power. It is not a rosary or incantation. Each point in the model prayer should act as a doorway to spirit-led fellowship and participation, not monotonous repetitions of yesteryears prayers.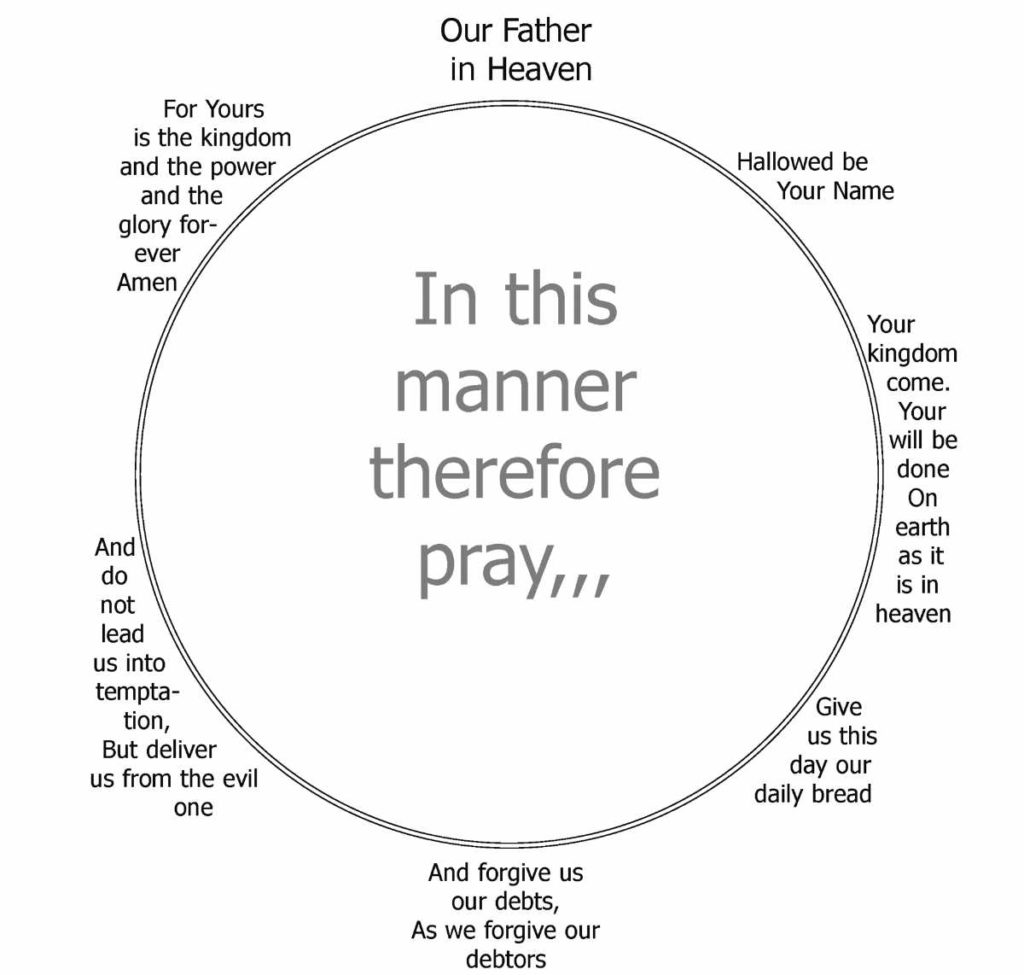 Station 1 – Our Father
This is where we simply acknowledge God as our Father. Through the blood of Jesus we have been brought into right relationship with God and have absolute liberty to approach Him without fear or condemnation.
Take time to thank God for His Son, and for the blood of Jesus that has made this relationship possible. This alone is very powerful because as you thank God for the blood you are essentially declaring into the spiritual realm your Covenant with Him. Through the covenant you have obtained freedom from the curse.
Take time to thank God for this spiritual and mental freedom that Christ has obtained for you, and for physical healing in your body.
In Heaven
I like to take opportunity to humble my heart before God at this point also. He is indeed in heaven, high and lifted up. He is the Holy One, on the throne, and without equal.
He is the Potter, and we are the clay. He is the Shepherd and we are the sheep. As we give place to the Father, and recognise our inability and helplessness without Him or His Spirit, the presence of God is drawn to us.
Just as Jesus pointed to the sinner not the Pharisee as an example of prayer in Luke 18:9-14, so His heart and presence will be drawn not to a proud heart but to one of humility: "The LORD is near to those who have a broken heart, And saves such as have a contrite spirit." (Psalms 34:18 NKJV)
---
Station 2 – Hallowed Be Thy Name
Hallowing or setting apart as special the Name of God is more than just a praise time (although it is that also), it is a declaration of what He IS and WILL BE to you in your life. As we praise God as our righteousness His righteousness is imparted to us. As we exalt Him as our Victory banner, the overcoming victorious Spirit of God is drawn to us and released within us. Everything in this prayer is alive and active – it is not just a dead framework or form.
Names of God our Father include:
"EL" = to be strong, powerful, or mighty.
ELOHIM Creator God. Genesis 1:1
EL-ELYON The Most High God. Genesis 14:18
EL-ROI The God that sees. All knowing. Genesis 16:13-14
EL-SHADDAI Almighty, all sufficient, many breasted. Genesis 17:1
EL OLAM Everlasting God. Genesis 21:33
EL-BETH-EL God of the House of God. Genesis 31:13
EL-ELOHE-ISRAEL God, the God of the Prince of God. Genesis 32:20
ELOAH The One God. Daniel 2:11
EL-GIBBOR The Mighty or Great God. Jeremiah 32:18,19
ELOHIM-ELYON  God, The Most High God. Psalm 91:1-2
ELOHIM-SABOATH Master, Owner of masters, Ruler of all. Psalm 86:12
REDEMPTIVE NAMES OF GOD (JEHOVAHISTIC)
These names speak of our covenant relationship with God. These Names reveal God in His relationship to us as His chosen people, and His desire and ability to fill our every need.
"JEHOVAH" (YAHWEH OR LORD)
The self existent One revealing Himself to man in redemptive purpose.
JAH ELOHIM The Lord God Redeemer Creator.Genesis 2:4
JAH ELOHIM SABOATH The Lord of Hosts. Psalm 84:8,Jeremiah 15:16
JAH JIREH The Lord who sees and provides. Genesis 22:14
JAH RAPHA The Lord who heals. Exodus 15:26
JAH NISSI The Lord my Banner. Exodus 17:15
JAH KANNA The Lord who is jealous. Exodus 20:5
JAH MEKADDESH The Lord who sanctifies. Leviticus 20:8
JAH SHALOM The Lord our Peace. Judges 6:24
JAH SHAPHAT The Lord is Judge. Judges 11:27
JAH SABOATH The Lord of Hosts. 1Samual 1:3/Psalm 24:10
JAH ELYON The Lord Most High. Psalm 7:17
JAH RAHH (ROI) The Lord my Shepherd. 23:1
JAH HOSENU The Lord Our Maker. Psalm 95:6
JAH GIBBOR The Lord is Mighty. Isaiah 42:13
JAH TSIDKENU The Lord our Righteousness Jeremiah 23:6 JAH SHAMMAH The Lord is there, ever present. Ezekiel 48:35
---
Station 3 – Thy Kingdom Come, Thy will be done on earth as it is in Heaven
This is a time where we declare and call for the will of God to be done. At times we will be asking the Father for His hand in the affairs of our life or the lives of others, at other times we will take these words as commands and exercise the authority we have been given in Christ. Just as Christ commanded the storm to "Be Still!" so we can command in certain situations, "Will of God BE DONE!", "Kingdom of God, COME AND BE ESTABLISHED!"
God's will is that all on earth be conformed to His heavenly pattern. There is no sickness in heaven, no poverty, no confusion.
As we pray we conform our own life and thinking to agree with His Word, and partner with the Father to see His will established here on earth. Our words are creative (Proverbs 18:21) and spiritual power is released into the situations we pray for. These can begin with our own personal needs, but stretch out in intercession to the four corners of the globe. The more time we spend in prayer of this sort, the more clearly our own heart will beat in time with His.
"For the kingdom of God is not meat and drink; but righteousness, and peace, and joy in the Holy Ghost." (Romans 14:17)
"For the kingdom of God is not in word, but in power."  (1Cor 4:20)
Pray these things into the situations and circumstances that surround you, knowing that the effective fervent prayers of righteous men and women are not in vain, but powerful and dynamic in their working.
"…The earnest (heartfelt, continued) prayer of a righteous man makes tremendous power available [dynamic in its working]." (James 5:16 AMPLIFIED)
---
Station 4 – Give Us This Day Our Daily Bread
Philippians 4:6-7 tells us to let all of our requests be made to God. It is here that we are able to bring specific needs to our Father's attention, knowing that as we ask according to His will (and we have just spent time acknowledging and meditating on that very thing) He will answer and grant the very things we have asked.
"And this is the confidence (the assurance, the privilege of boldness) which we have in Him: [we are sure] that if we ask anything (make any request) according to His will (in agreement with His own plan), He listens to and hears us. And if (since) we [positively] know that He listens to us in whatever we ask, we also know [with settled and absolute knowledge] that we have [granted us as our present possessions] the requests made of Him." (1 John 5:14-15 AMPLIFIED)
These needs may be numerous and cover physical, emotional and spiritual arenas of life. Be specific in your requests, and believe that you receive those things you have desired and asked of the Father. He knows all that you have need of before you even ask, and has already provided to meet your request.
"For this reason I am telling you, whatever you ask for in prayer, believe (trust and be confident) that it is granted to you, and you will [get it]." (Mark 11:24 AMPLIFIED)
---
Station 5 – Forgive us our sins as we forgive those who sin against us.
Clean hands and a pure heart are essential for confident prayer. John the Apostle speaks of this when he couples the conscience with our ability to confidently receive from Heaven:
"For if our heart condemn us, God is greater than our heart, and knoweth all things. Beloved, if our heart condemn us not, then have we confidence toward God. And whatsoever we ask, we receive of him, because we keep his commandments, and do those things that are pleasing in his sight." (1 John 3:20-22 KJV)
Jesus also stressed the importance of a heart free of malice or unforgiveness in regard to effective prayer:
"And when ye stand praying, forgive, if ye have ought against any: that your Father also which is in heaven may forgive you your trespasses. But if ye do not forgive, neither will your Father which is in heaven forgive your trespasses." (Mark 11:25-26 KJV)
"For if ye forgive men their trespasses, your heavenly Father will also forgive you: But if ye forgive not men their trespasses, neither will your Father forgive your trespasses." (Matthew 6:14-15 KJV)
Here we search and cleanse our hearts of any thing that may hinder our answer being granted and our receiving. It seems that unforgiveness can be a real blockage in the spiritual realm, and prevents the Father from granting that which He desires to give. The price of holding on to bitterness and unforgiveness is just too great, so we intelligently keep short accounts, and continually ensure we are in the love of God and fulfilling God's command to love others (even if at times they are not loving us).
---
Station 6 – Lead us not into temptation, but deliver us from evil
Satan is always prowling around seeking to devour those whom he finds exposed and vulnerable.
We are warned not to think more highly of ourselves than we ought, but to think soberly. We are but flesh and blood, and we too need God's grace to walk uprightly.
"Brethren, if a man be overtaken in a fault, ye which are spiritual, restore such an one in the spirit of meekness; considering thyself, lest thou also be tempted. Bear ye one another's burdens, and so fulfil the law of Christ. For if a man think himself to be something, when he is nothing, he deceiveth himself."  (Galatians 6:1-3 KJV)
Temptation can come in many guises, but if we keep our heart sensitive and vigilant we will be able to overcome any temptation or test that comes our way (1 Cor 10:13).
Each day we clothe ourselves with Christ, the armour of light (Rom 13:12-14; Eph 6:14-17), and consciously tuck ourselves under the wing of God.
This does not mean we are invincible, but we are aware of two things; our own weakness and vulnerability, and of God's constant care and protection. Coupled together, our weakness and His greatness, we are perfectly positioned to overcome each and every day, and walk in the blessing of the Most High.
---
Station 7 – For Thine is the Kingdom, the power and the glory, forever and ever. Amen
Just as we began by recognising and exalting the Father, so we end our prayers rejoicing in His greatness and victory.
We recognise His Kingdom rule in our lives, His power at work in and through us, and His glory above all else.
More than that, it is forever and ever – we now have an eternal perspective on things, having been lifted into His presence, knowing and sensing that we are seated with Christ in heavenly places.
Truly, the Lord's Prayer puts things in their proper place and perspective, positioning us for blessing, and powerfully releasing God's grace into the world around us.
Amen!
So be it!
Let it be done!
Make it so!
Yes! Yes! Yes!