The Bible contains teaching about many subjects, all of them beneficial, but Paul tells us in Hebrews 6:1-3 that an understanding of certain doctrines provides a solid basis for our spiritual progress:
"Therefore, leaving the discussion of the elementary principles of Christ, let us go on to perfection, not laying again the foundation of repentance from dead works and of faith toward God, of the doctrine of baptisms, of laying on of hands, of resurrection of the dead, and of eternal judgment. And this we will do if God permits."

Hebrews 6:1-3 NKJV
Paul states that every believer should have an awareness of these teachings in order to move on to maturity. We will therefore look at them together to ensure that students have indeed grasped these 'elementary principles'. We will then move on to more 'advanced teaching'. [Read Hebrews 6:1-3 in the Amplified Bible].
"As in building a house one must never leave the foundation: yet to be always labouring in 'laying the foundation' would be ridiculous"
JOHN CALVIN
The Doctrines stated are:
Repentance from dead works
Faith toward God
The doctrine of baptisms
Laying on of hands
Resurrection of the dead
Eternal judgment
---
Repentance From dead works
We will consider the six foundational doctrines in an elementary context, and from the perspective of coming into right relations with God. Each teaching can be expanded and elaborated upon extensively, which may occur later in the course. Here, however, we will concentrate on their primary application for young and growing Christians.
The two doctrines to begin our discussion both signify a "turning"; repentance from dead works and faith toward God.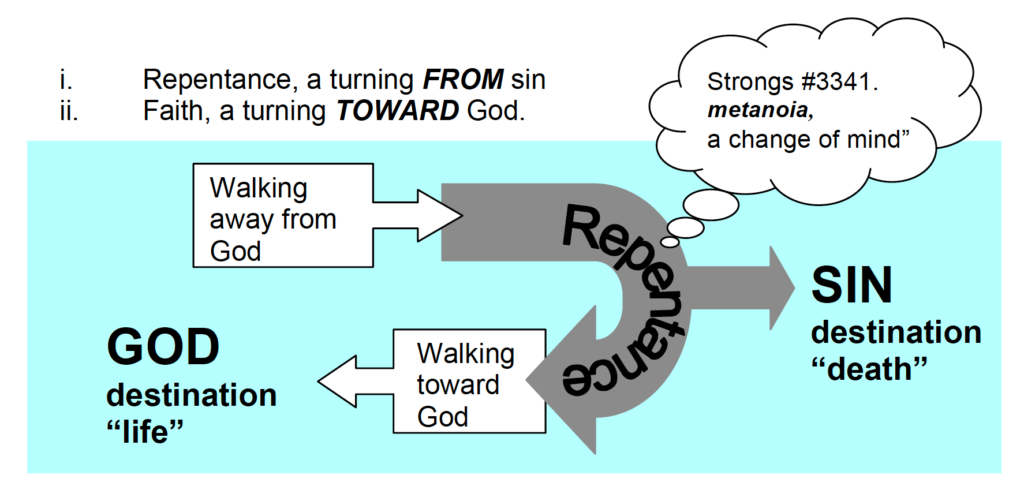 Kevin Conner in "Foundations of Christian Doctrine" offers the following definitions for Repentance…
Repentance is NOT
It is not conviction of sin – conviction precedes repentance, but not all who are convicted are repentant
It is not worldly sorrow (remorse) – which is sorrow for the consequences of sin, not the sin itself eg: Esau (Hebrews 12:17) and Judas (Matt 27:3-5)
It is not reformation – this is 'turning over a new leaf'. A person can reform their life without being regenerated by the Spirit of God (Isaiah 64:6)
It is not being religious – the Pharisees were very religious, but they were hypocrites (Matt 3:8)
It is not 'mental assent' – acceptance of a set of creeds or historical facts without a change in life.
What Repentance Is
In the OT the Hebrew "Nacham" means to "sigh, ie: breathe strongly".
By implication this means "to be sorry, to pity, to console". When used in reference to God it refers to the sorrow, sighing, and lamentation that He experiences over the failures of His people, and mankind (eg: Genesis 6:6)
Another Hebrew word is "Shuwb" translated repent and meaning to 'turn back, to retreat' and has the thought of turning and returning, turning around (1 Kings 8:47-48).
In the NT the word 'repent' is used over 60 times.
Mentanoeo (met-an-o-eh-o) to think differently afterwards ie: to reconsider, "a change of mind"
Repent, for the kingdom of heaven is at hand!"

Matthew 3:2 NKJV
Metamelomai (met-am-el-lom-ahee) to care afterwards, to regret
He answered and said, "I will not,' but afterward he regretted it and went."

Matthew 21:29 NKJV
Metanoia (met-an-oy-ah) compunction for guilt, including reformation; by implication reversal of a decision, To change ones mind
I indeed baptize you with water unto repentance."

Matthew 3:11 NKJV
The basic meaning in the NT is "to change one's mind".
This is not an emotion but a decision, a change of mind, heart, and attitude particularly as applied to sin and one's relationship with God.
From going away from God to coming towards God.
In the NT the emphasis is on the inward nature of true repentance; in the OT emphasis is on the outward expression in action.
Put together…
Repentance and Faith will always have these two elements: We turn away from one thing in order to turn toward another; We come out of one thing in order to enter into another.
Then He brought us out from there, that He might bring us in, to give us the land of which He swore to our fathers."

Deuteronomy 6:23 NKJV
The key focus of God's heart in our repentance is not what we are brought out from, but rather the glorious new life He desires to bring us in to!
---
What are dead works?
The focus of our verse is not just a general repentance, but repentance from 'dead works'.
Our 'works' refer to the good deeds or good things that we do. Paul in his witness to king Agrippa says that our repentance should be accompanied by works:
"but declared first to those in Damascus and in Jerusalem, and throughout all the region of Judea, and then to the Gentiles, that they should repent, turn to God, and do works befitting repentance."

Acts 26:20 NKJV
John the Baptist said the same thing in his address to the Pharisees:
"Therefore bear fruits worthy of repentance,"

Matthew 3:8 NKJV
Clearly there must be a difference between 'works' and 'dead works'.
In essence a dead work is one not prompted by God. In the context of salvation particularly, it denotes those activities we engage in vain attempts to earn a place of right standing with God.
No amount of good works can earn us a place of right standing with God. This is true at the outset of our walk together with Him, and continues to be true as our life of faith develops. We must always be on guard that we do not fall into the trap of trusting in our religious deeds, expecting them to 'earn' us a place of favour with God.
Paul in his letter to the Hebrews was speaking specifically to a Jewish audience, whose mindset was one of obedience to the Jewish law. In the Jewish mind, our place of 'holiness' was determined by our level of consecration, and by our obedience to external rules and ordinances. Paul here addresses such a mindset.
If he were speaking to us today he might say something like:
"Don't trust in your church attendance, your witnessing, your giving to the poor or your Bible reading program, or the fact that you are attending a Bible School, to establish your supposed righteousness. Nothing you can do can earn you God's favour. Jesus Christ is your righteousness, and only faith in Him gives you your place of right standing before God!"
We must get things in the correct order. Faith comes first, and works follow!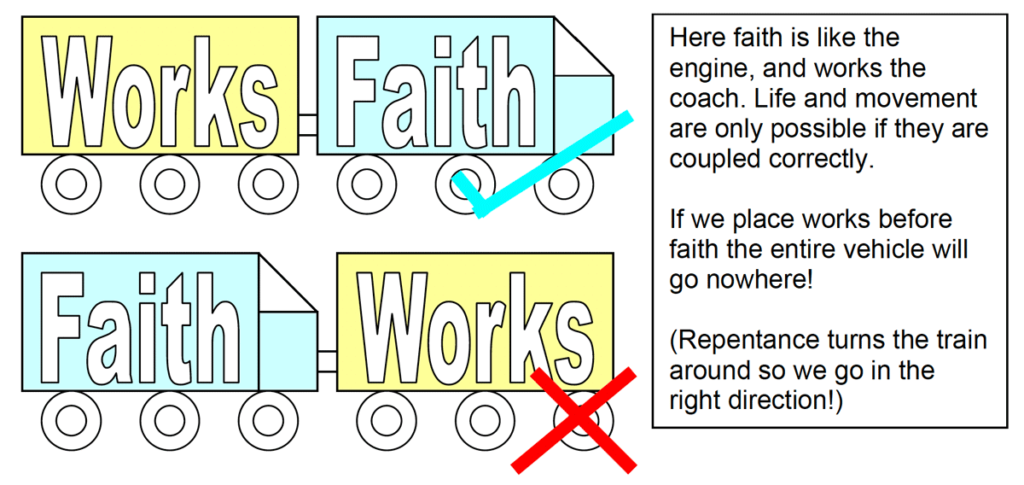 ---
Repentance is an essential pre-requisite to genuine faith in God.
Repentance is the first word of the Gospel – the Good News.
As listed in "Foundations of Christian Doctrine", Kevin J Conner
The OT prophets preached repentance to Israel (eg: Ezekiel 14:6)
John the Baptist made a call to repentance and baptised into repentance (Matt 3:1-8)
The first word Christ preached was repentance (eg: Matt 4:17)
The apostles called men to repentance (Mark 6:12)
Peter at Pentecost preached repentance (Acts 2:38)
Paul preached repentance to Jew and Gentile (Acts 26:20)
Repentance is listed as a foundation doctrine (Heb 6:1)
Jesus commanded his disciples to preach repentance to all nations (Luke 24:47)
Repentance is a command to all, without which all will perish (eg: Acts 17:30)
Jesus Himself said:
The time is fulfilled, and the kingdom of God is at hand. Repent [FIRST], and believe [SECOND] in the gospel."

Mark 1:15 NKJV
Genuine Repentance will be followed by fruits resulting from a change of heart and mind.
John the Baptist called for "fruit meet (answerable to amendment of life) for repentance". Paul called for "works meet for repentance" Acts 26:20. A tree is judged by its fruit, and fruit is according to the root. Evidence of a genuine root of repentance is the fruit of repentance. Works are an outward action of the inner life. A person is judged by their works, which come from their inner disposition.
Conner outlines some of the fruits of repentance in Foundations of Christian Doctrine:
A Godly sorrow for sin (2 Cor 7:10)
A confession of sin (Luke 18:9-14)
Turning towards God through Christ (1Thess 1:9)
Forsaking of sin (Isaiah 55:6-7)
Turning from dead works (Hebrews 9:14) – especially the religious works of the unsaved. If you are dead in trespasses and sin, that is the root, so the fruit will only be dead works.
Hatred of sin (Ezekiel 20:43)
Desire for forgiveness (Psalm 51:1)
Restitution where possible (Luke 19:8) eg: Zaccheus
Repentance was God's idea. It begins with grace, a sovereign move of God's Spirit, not with the will of man.
No one can come to me unless the Father who sent me draws him"

John 6:44
Or do you despise the riches of His goodness, forbearance, and longsuffering, not knowing that the goodness of God leads you to repentance?"

Romans 2:4 NKJV
The work of repentance on God's side:
Conviction of the Holy Ghost (John 16:8-11)
The Word of the Gospel (Matt 12:41)
Gift of God to the heart (2 Tim 2:25)
Providential goodness of God (Romans 2:4)
Chastisement from the Lord (Hebrews 12:10-11)
The work of repentance on man's side:
Acceptance of the truth of the Gospel (Romans 10:17) – the mind hears the word
Response of the soul (Psalm 38:18) I will be sorry for my sin – emotions
Surrender of the will (Matt 16:24) deny himself, take up his cross and follow Jesus – the will
God commands man to repent. He also enables man to respond.
The Holy Spirit convicts man to a state of repentance. Man responds to the conviction. Without repentance man will perish (Luke 13:3)
In conclusion
Mankind is moving in the opposite direction, away from God. No works that they can do can turn them around and earn them a place of favour or peace with God. God's goodness draws a man or woman to a place of repentance, whereby they turn from sin, selfishness and vain attempts to establish their own righteousness. They turn completely around, toward God. This turning is evidenced by outward actions proving the reality of their repentance.