The ultimate and eternal states of mankind are described in Scripture as
Heaven and Hell.
The existence and nature of these places has been the subject of great debate over the years. Some find it hard to reconcile a loving God with a judgement that sends people to such a horrible fate as hell, forgetting that He is also a Holy God, and that His goodness and longsuffering is urging all men to be reconciled before it is too late.
False theories with no scriptural basis, such as the Catholic purgatory (a place of suffering men go after death to purge and purify them until they are fit for heaven), or Jehovah's Witnesses annihilation (the cessation of existence), seek to embrace a belief in an eternal and real heaven, without accepting that hell is also a very real place.
Jesus Christ Himself, however, the very personification of love, spoke much of the terrors of hell and the reality of heaven. (Matthew 5:22,29,30; 10:28; 18:9; 23:15)
The following diagrams outline some of the characteristics that Scripture reveals about these places.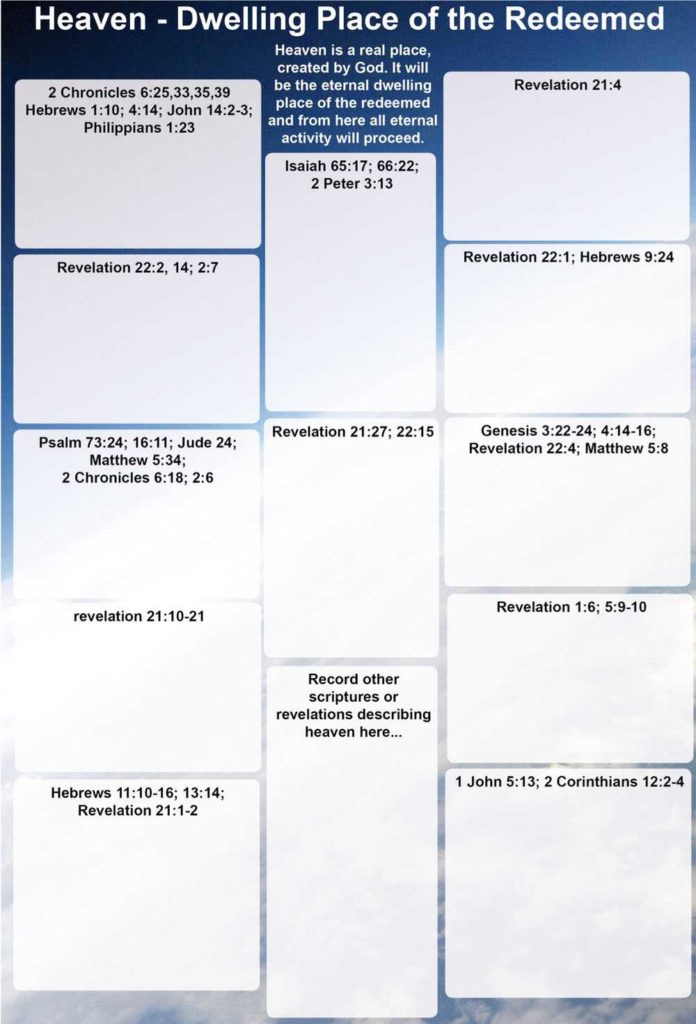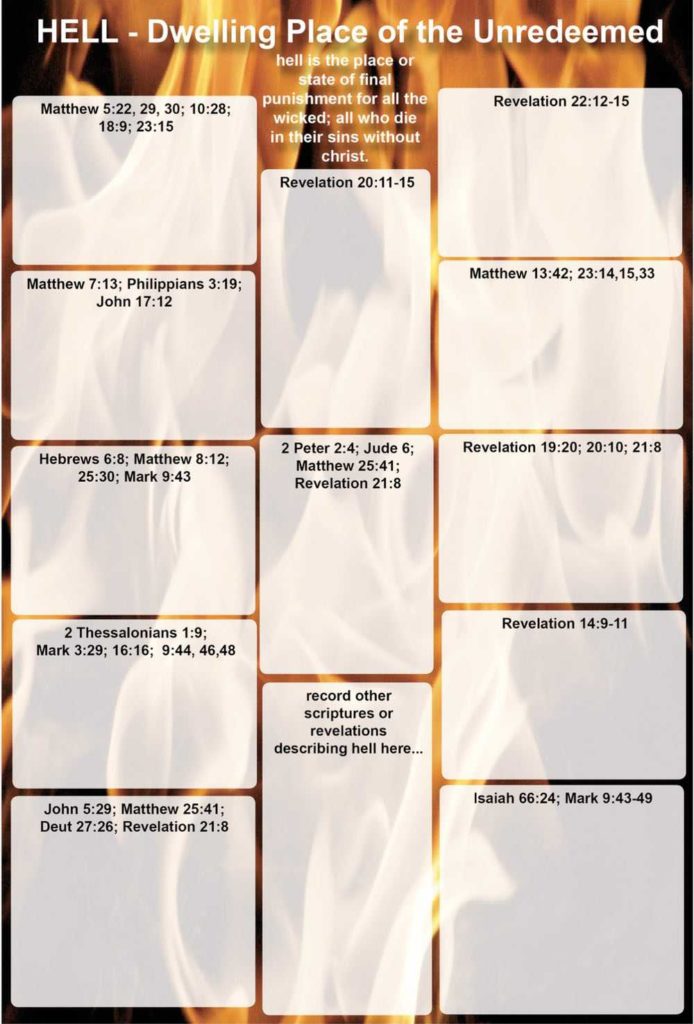 ---
The Underworld
The Scriptures speak of three divisions of the underworld.
Sheol (Hebrew) or Hades (Greek)
The place of departed spirits awaiting judgement. It is spoken of in both the Old and New Testaments as existing "down", "in the depths" and "beneath", and is a place of pain and sorrows.
Deut 32:2; Psalm 9:17; 16:10; 86:13; Job 11:8; Isa 14:9,15; Matt 11:23; 16:18; Luke 10:15; Acts 2:27,31; 1Cor 15:55
The Old Testament speaks of Sheol particularly as being the place of departed human spirits, and Scripture implies that within this divison there are further distinctions between the holding place of the faithful and the faithless. The departed believer entered the comfort of "the bosom of Abraham", whereas the departed wicked were placed in an area of great torment, with a vast gulf existing between the two. This is best illustrated in Jesus' story of Lazarus and the rich man related in Luke chapter 16.
---
Tartarus
The Greek word 'tartarus' translated "hell" is used only once in the New Testament in 2 Peter 2:4. Along with Jude 6 it suggests that there is a specific place in the underworld where sinning angelic beings are imprisoned awaiting last judgement.
"For if God spared not the angels that sinned, but cast them down to hell, and delivered them into chains of darkness, to be reserved unto judgment;"

2Peter 2:4 KJV
"And the angels which kept not their first estate, but left their own habitation, he hath reserved in everlasting chains under darkness unto the judgment of the great day."

Jude 1:6 KJV
Many commentators believe that the crime of these angels was sexual relations with human women, and that this event is what is referred to in  Genesis 6:1-4
---
The Abyss
Spoken of as in the lower parts of the earth, this place is referred to as the Abyss, the bottomless pit and the deep. It is also spoken of as "Abaddon", "Apollyon" or "destruction". It seems that this place is a deeper pit than Sheol or Hades, and is the dungeon abode of demon spirits.
Psalm 63:9; 139:15; Isaiah 44:23; Ezek 26:20; Eph 4:9; Rev 9:11; Matt 7:13; Rom 9:22; Phil 3:19; 2 Pet 2:1; 3:16; Rev 9:1-3; Rom 10:7; Luke 8:31
Just as men place accused criminals in different cells, according to their crimes, each awaiting sentence and final judgement, so God has various jails in which He locks prisoners until the Great White Throne Judgement, when they will be tried and sentenced eternally to the final Hell,
Gehenna or the the Lake of Fire.
All divisions and their inhabitants are finally thrown into the final hell, The Lake of Fire.
The Lake of Fire is spoken of in Revelation 19:20; 20:10, 14-15; 21:8