Kevin J Connor states in 'Foundations of Christian Doctrine'
"The Bible teaches that man is on probation during his time here on earth. Those who respond to God's grace and obey Him will be eternally rewarded in Heaven. Those who wilfully resist the grace of God and follow their own will, effectively serving satan, will be eternally punished in hell, along with their master.
Our eternal destiny is settled here in time."
We desperately need to live with a revelation of eternal things, that our hearts would not be overcome with the concerns of this life, but moved with compassion to serve God, and seek and save the lost from their awful fate without God.
---
Time and Eternity
God is an eternal Being. The Bible declares that He inhabits eternity.
"For thus says the High and Lofty One Who inhabits eternity, whose name is Holy: "I dwell in the high and holy place, with him who has a contrite and humble spirit, to revive the spirit of the humble, and to revive the heart of the contrite ones."

Isaiah 57:15 NKJV
Man is creature of time. He has a beginning. However, because mankind is created in the image of God, they too are eternal beings and will live forever. We have a beginning but no end.
The eternal realm is more than just longevity of time. It is something different to time altogether. God is declared to be the Alpha and the Omega. He is the beginning and the end (Revelation 1:8). He is the I AM, ever present at any moment in history (Exodus 3:14). His Spirit is called the Eternal Spirit (Hebrews 9:14). So we are not here talking about something that can easily be described within the boundaries of our experience, yet we are destined to dwell there in one state or another, endlessly and without limit.
Derek Prince described eternity this way: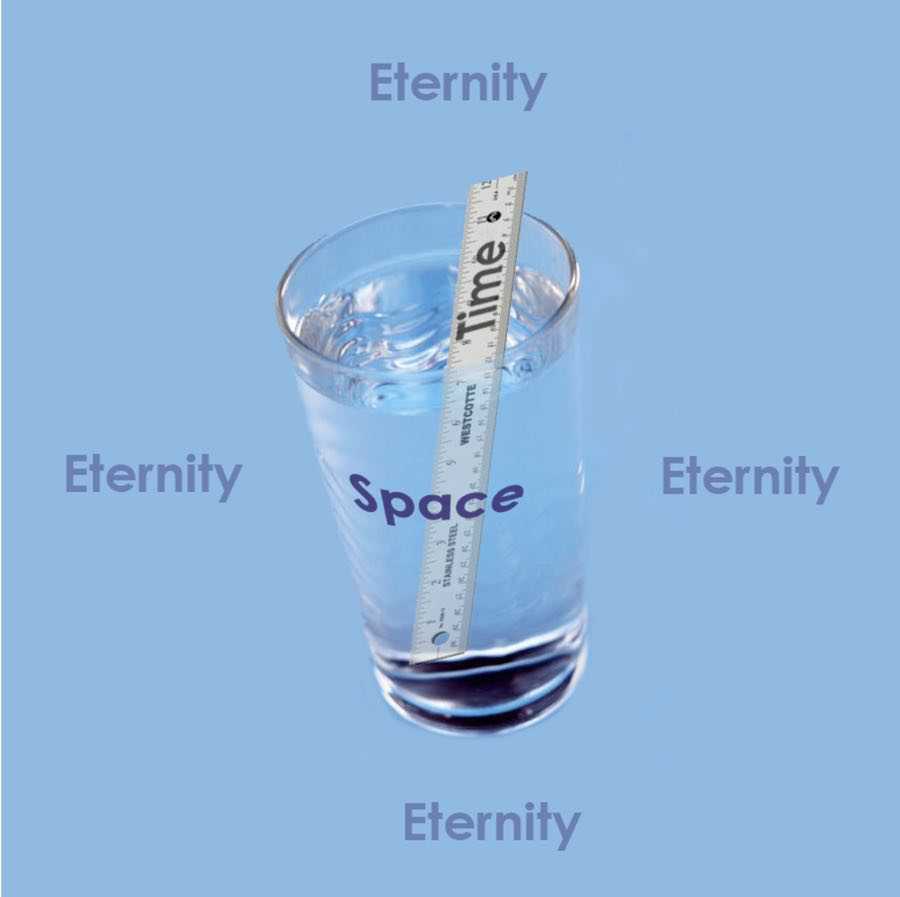 The glass represents space is pictured as the ruler in the glass. Eternity fills & surrounds both time and space. Because God inhabits eternity He exists on all sides of time and space at once. There is nowhere and no time that He is not present at any given moment.
It is within this boundless realm that all created beings will exist.
Mankind will first be resurrected as outlined in our previous lesson, and will then attend their second universal appointment: Judgement.
---
Probation and Reward
Mankind has been placed on probation (a time of testing or proving) from his very first moments on earth. Adam was placed within the Garden paradise under one commandment to test his obedience. As we know, he failed.
God's grace was further extended to mankind through various dispensations of time, each with its own criteria, and its judgements and rewards.
These administrations of God within time exemplify for us that which He will do in eternity. A time will come when 'time' will end and final rewards and judgements will be meted to both the righteous and the unrighteous according to their works and character.
On a personal level, each son of Adam has a life span. It is during this time that he or she is on probation. This is where God's grace is extended and time is given for repentance.
"And I gave her time to repent…"

Revelation 2:21 NKJV
"But, beloved, do not forget this one thing, that with the Lord one day is as a thousand years, and a thousand years as one day. The Lord is not slack concerning His promise, as some count slackness, but is longsuffering toward us, not willing that any should perish but that all should come to repentance."

2Peter 3:8-9 NKJV
---