Two main schools of thought exist regarding the geological record that nature presents us with:
Catastrophism is the theory that Earth has been affected by sudden, short-lived, violent events that were sometimes worldwide in scope.
The dominant paradigm of geology however has for many years been uniformitarianism (also sometimes described as gradualism).
From around 1850 to 1980, most geologists endorsed uniformitarianism ("The present is the key to the past") and gradualism (geologic change occurs slowly over long periods of time) and rejected the idea that cataclysmic events such as earthquakes, volcanic eruptions, or floods of vastly greater power than those observed at the present time, played any significant role in the formation of the Earth's surface. Instead they believed that the earth had been shaped by the long term action of forces such as volcanism, earthquakes, erosion, and sedimentation, that could still be observed in action today. In part, the geologists' rejection was fostered by their impression that the catastrophists of the nineteenth century believed that God was directly involved in determining the history of Earth. Catastrophism of the nineteenth and early twentieth centuries was closely tied to religion and catastrophic origins were considered miraculous rather than natural events.
One of the key differences between catastrophism and uniformitarianism is that to function, uniformitarianism requires the assumption of vast timelines, whereas catastrophism can function with or without assumptions of long timelines.
[Source: Catastrophism: Wikipedia, the free online encyclopaedia]
---
We will not go into specific examples here. Again, much evidence is discussed on the Answers in Genesis or Creation Ministries websites.
The booklet Stones & Bones by Carl Wieland also covers some basic arguments against uniformitarianism.
Our purpose here is to defend the Genesis record as the basis for understanding history.
Worldview affects how we interpret facts
QUESTION: When we look at rock layers and fossils today what do we see?
ANSWER: We see layers of rock and fossils!
What we see is not in the past but the present. What is important to grasp is that what differs among scientists is their INTERPRETATION of the present facts. We cannot go back and see what actually happened, we can only interpret what we find in the present. In this respect, from natural evidence alone, neither the creationist nor the evolutionist can categorically state that a particular view of our past is certain.
Our interpretation of the present facts will undoubtedly be influenced by the worldview through which we view the evidence.
A uniformitarian for example will look at the Grand Canyon in the present, and see a billion years of history, where the river has carved out the great valley, and sediments have been laid in layers over millennia.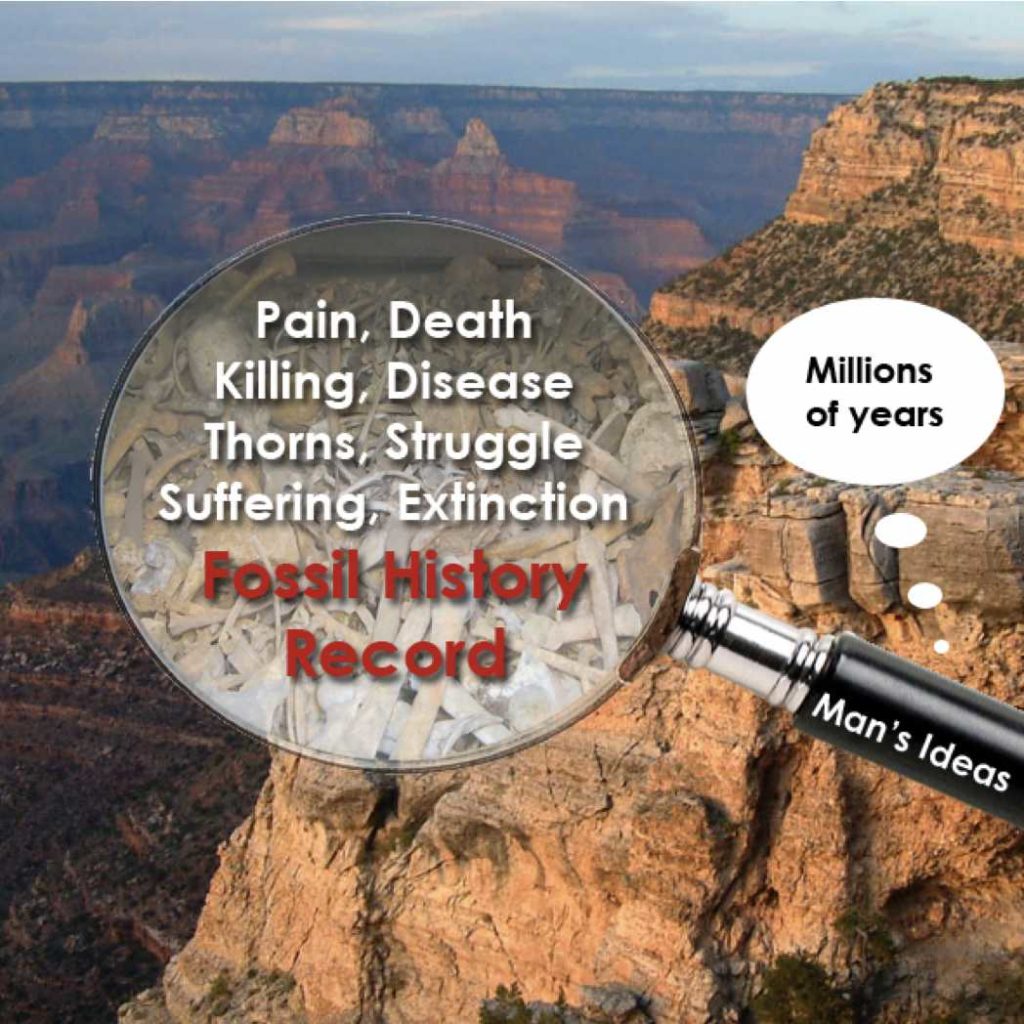 The Biblical Creationist on the other hand see layers of sediment being laid very rapidly by the catastrophic flood of Noah's day.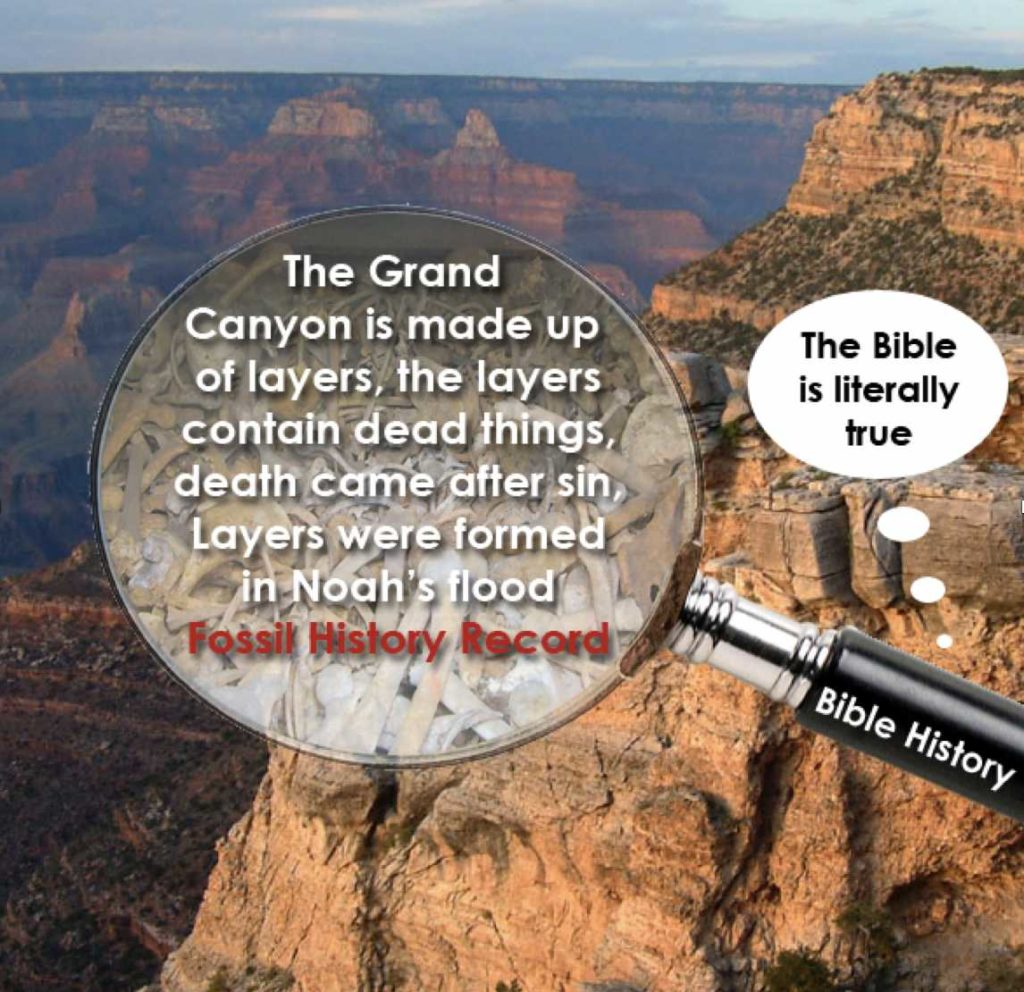 How long does it take for fossils to form?
Many have been led to believe that fossils take many thousands of years to form, as sediments are laid down over millions of years. This supposition is false however, and proof of rapid fossilisation is very common.
Again, the student is referred to articles on the AiG website such as http://www.answersingenesis.org/home/area/cfol/ch3-how-fast.asp which discuss at length fossil phenomena.
The following are some amusing illustrations of rapid fossilisation:

There are also examples of rapid burial and petrifaction in fossilised jellyfish, animals giving birth and other phenomena.
A deluge of Biblical proportions actually provides perfect conditions to explain the burial and petrifaction of animals and plants, just as we see in the geology of the earth's crust.
---
What about Transitionary Fossils?
Gradualism coupled with evolutionary history should also provide us with a fossil history replete with transitionary fossils (those which prove the gradual change from one form of creature to another). If evolution were true we should find literally millions of such fossils.
In actual fact, no such fossils exist.
The total number of undisputable transitionary fossils that have been discovered since Darwin's day until this very moment stands at a massive ZERO. Despite this embarrassing truth, evolution is still taught as a fact of 'science'. The late Dr Colin Patterson was senior Palaeontologist at the British Museum of natural History – an evolutionist and a fossil expert. He wrote a significant book on evolution. When someone asked him why he did not show any pictures of in-between (transitional) forms in his book, he wrote the following:
"I fully agree with your comments on the lack of direct illustration of evolutionary transitions in my book. If I knew of any, fossil or living, I would certainly have included them. You suggest that an artist should be used to visualise such transformations, but where would he get the information from? I could not, honestly, provide it, and if I were to leave it to artistic licence, would that not mislead the reader?
…you say I should at least "show a photo of the fossil from which each type of organism was derived." I will lay it on the line – there is not one such fossil for which one could make a watertight argument."

As recorded in "Stones and Bones", Carl Wieland p14, Published by Answers in Genesis
---
We quote now from Prof. Gary Parker's book, Creation: Facts of Life:
"Knowledgeable people readily agree that both fossils and rock layers can and do form very rapidly. But there's a catch. Fossils and rock layers are not just found "one at a time." Rocks chock full of fossils are buried in layers stacked on top of one another, in places about 2 miles (3 km) thick! Not only that, but there's a tendency for fossils to be found together in certain groups, and a tendency for these groups to be found one after the other in a certain sequence called the "geologic column."
According to evolution, the geologic column lays out the story of evolution chronologically, from bottom to top, right before our eyes. Maybe science hasn't explained how evolution works yet, but the "fact of evolution" is plain to see in the "record in the rocks." Life started with a few simple life forms (originally produced by time, chance, and chemistry), and we can chart its progress, the net increase in variety and complexity, as we move up through the rock layers. Only an ignorant, fundamentalist fanatic with his nose in the Bible could fail to see evidence so clear and convincing as the "rock-hard" geologic column!
Two interpretations of the geologic column

Two interpretations of fossil groups (geologic systems) and their sequence (the "geologic column").
According to the uniformitarian model, systems and the geologic column represent stages in the slow and gradual evolution of life over aeons of time.
Or at least that's the way textbooks, television, museums, and magazines usually tell the story. But what is someone who believes the Bible going to say? There really are fossils out there; they really are in sedimentary rock layers; and those layers really are stacked on top of each other, over 1.5 miles (2 km) deep across the Arizona-Utah border, for example.
Now the geologic column is an idea, not an actual series of rock layers. Nowhere do we find the complete sequence. But, still, the geologic column does represent a tendency for fossils to be found in groups and for those groups to be found in a certain vertical order. Cambrian trilobites and Cretaceous dinosaurs aren't usually found together.
Why aren't trilobite and dinosaur fossils found together? According to evolution, the answer is easy. The Cambrian trilobites died out millions of years before the dinosaurs evolved. But there is another explanation that seems even more natural. After all, even if trilobites and dinosaurs were alive today, they still wouldn't be found together. Why? Because they live in different ecological zones. Dinosaurs are land animals, but trilobites are bottom-dwelling sea creatures.
According to the catastrophist model, groups of fossils are the remains of plants and animals once living in different ecological zones at the same time, and they were buried in rapid succession.
According to creationists, the geological systems represent different ecological zones, the buried remains of plants and animals that once lived together in the same environment. A walk through Grand Canyon, then, is not like a walk through evolutionary time; instead, it's like a walk from the bottom of the ocean, across the tidal zone, over the shore, across the lowlands, and into the upland regions. Several lines of evidence seem to favour this ecological view."
This book is available to read online at http://www.answersingenesis.org/home/area/cfol/index.asp
---
A history of gradual transition should provide us with a model as shown in the following diagram:

What we actually witness is the rapid and sudden appearance of complex forms in the geologic column. The Cambrian explosion has generated extensive scientific debate. Darwin saw it as one of the principal objections that could be lodged against his theory of evolution by natural selection, as have modern-day Creationists ("The fossil record had caused Darwin more grief than joy. Nothing distressed him more than the Cambrian explosion, the coincident appearance of almost all complex organic designs…" S J Gould). Scientists have also long been puzzled by its abruptness, and the apparent lack of obvious predecessors to the Cambrian fauna. The actual geological record is better pictured as overleaf: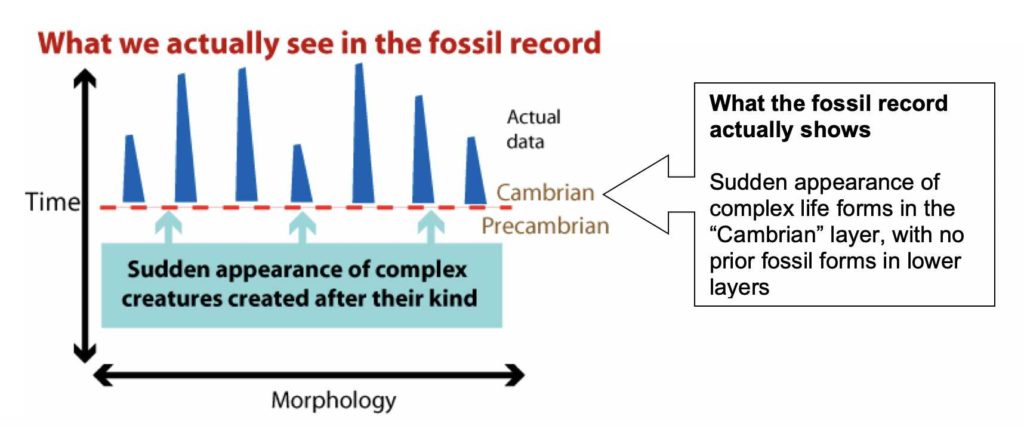 The real issue however, is not so much the scientific debate surrounding this arena, but a theological one. The evolutionary hypothesis demands millions of years of death and suffering prior to the arrival of mankind, late in the evolutionary tale. The Bible however clearly attributes the entrance of death and suffering in earth's history as the direct result of Adam's sin. Prior to this event, there was no death – all was perfect.
"Therefore, just as through one man sin entered the world, and death through sin, and thus death spread to all men, because all sinned—" (Rom 5:12 NKJV)
In reality, the two worldviews are entirely irreconcilable.
Our history did not begin billions of years ago and then gradually become more complex, more mature, better formed and perfect, as evolution would lead us to believe. The opposite is true. We began in a perfect world, into which sin entered, after which a gradual decline has been happening. This decline will come to an end when Christ returns, and a perfect universe apart from sin is restored.
The immutable natural Laws of Thermodynamics also attest to this reality, and refute the idea that nature itself spontaneously becomes more complex over time.
First Law of Thermodynamics
This law states that energy can be changed from one form to another, but it cannot be created or destroyed.
The first law of thermodynamics is often called the Law of Conservation of Energy. This law suggests that energy can be transferred from one system to another in many forms. Also, it states that energy can not be created or destroyed. Thus, the total amount of energy available in the Universe is constant. Einstein's famous equation (written below) describes the relationship between energy and matter: E = mc2
In the equation above, energy (E) is equal to matter (m) times the square of a constant (c). Einstein suggested that energy and matter are interchangeable. His equation also suggests that the quantity of energy and matter in the Universe is fixed. (ie: when God completed the creation of the universe it contained all the energy it would ever contain).
Second Law of Thermodynamics
This law states that when energy is being transformed from one state to another, some of it is turned into heat energy which cannot be converted back into a useful form. In other words, this universe may be looked upon as a wound-up clock that is slowly running down. This process of disintegration toward disorder is called 'entropy'.
Heat cannot be transferred from a colder to a hotter body. As a result of this fact of thermodynamics, natural processes that involve energy transfer must have one direction, and all natural processes are irreversible.
This law also predicts that the entropy (the break down) of an isolated system always increases with time. Entropy is the measure of the disorder or randomness of energy and matter in a system. Because of the second law of thermodynamics both energy and matter in the Universe are becoming less useful as time goes on. Perfect order in the Universe occurred the instance after Creation when energy and matter and all of the forces of the Universe were unified.
Evolution contradicts these two laws by stating that even without external application of energy or design systems become more complex. Science shows however that living systems break down and become more disordered over time if energy and design is not applied to prevent it.